---
THE RULES OF SCHEDULING ENGAGEMENT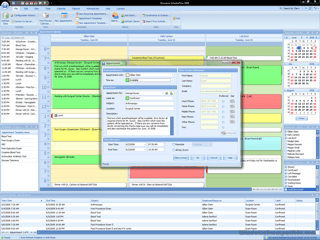 As a busy executive or founder, you know that scheduling can be a bit scary to manage. That's why you seek the trusted help of an experienced executive assistant who will manage your calendar with an organized scheduling process.
Below, you'll get a sneak peek into 3 hacks that Prialto's virtual executive assistants use to keep client calendar's highly organized.
---
1. Next contact date/tracking/best way to follow-up
All of Prialto's virtual executive assistants are experts at using Salesforce Contact Relationship Management (CRM) software on behalf of our clients. They also utilize a variety of other robust CRM platforms such as Hubspot and Infusionsoft.
Using a CRM as the central location for a client's data allows executive assistants to consistently follow up with prospects in a timely manner. At minimum, impeccable assistants will update the date and method of outreach for each contact attempt. Assistants will also add and update any additional fields that the client may prefer to have recorded.
Based on the average preference of clients, a Prialto virtual executive assistant will leverage the best practice of following up two days after initial contact, three days after second attempt, then five days after the third attempt. If there is still no response after the third follow up, Prialto virtual executive assistants check in with their client who will instruct them to continue or stop.
Once a call or meeting has been confirmed between a client and a contact, assistants should always make sure to confirm with the contact twenty-four hours prior to the meeting schedule.
2. Avoid double booking
Hold times are really beneficial in avoiding double booking. When you use an experienced executive assistant who has a well refined scheduling process, you're able to trust your assistant's judgement when it comes to your calendar. Instead of having to manage one more task, you're free to leave the scheduling of your calls and meetings to a pro.
It's very important that assistants know the scheduling preferences and restrictions of their various clients by heart. They must live in their client's calendar. This conscious practice goes the farthest in organizing a client's calendar.
3. Accessing drive times between appointments
The best virtual assistant companies make sure to hire a virtual executive assistant who is resourceful. In regards to scheduling, drive times can really put the brakes on arrival times, thus hijacking the successful end-to-end flow of a meeting before it's even begun.
This is where an assistant's resourcefulness is in high demand.
Assistants should leverage the online tools that are available to them rather than attempt guesstimates. By checking Google for the address where the meeting will be held, and also checking Google Maps for directions, an executive assistant can make an informed scheduling decision.
A do-or-die rule of thumb is to allot thirty minutes buffer time before and after each meeting. Depending on the traffic congestion of your city, that minimal buffer time could be as high as an hour or more.
---
CONCLUSION
Generally, an assistant's willingness to help and show their genuine care for you and your business is what sets them apart from other assistants.
At Prialto, we go the extra mile to help our clients. That's our mantra. There are no substitutes. Which is why we offer the best virtual assistant services available.
---