TriNet President and CEO Burton Goldfield has led TriNet to become the largest independent cloud based HR provider, and has specifically invested heavily in the company's SaaS technology platform. He's a fan of mobile apps, and it shows on his iPhone's home screen.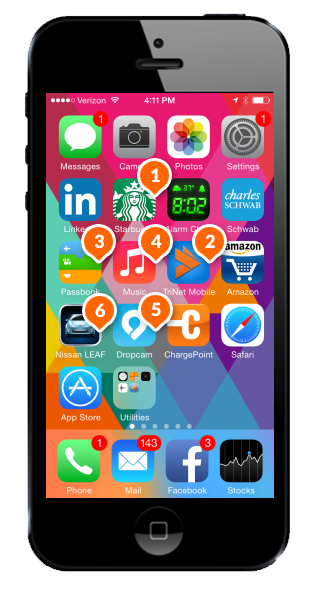 1. Caffeine fueled
Burton keeps the Starbucks app on his home screen because, as he puts it, he can't do much without his caffeine fix. The app tells him where to find the nearest Starbucks and even enables him to pay for his drink.
2. Mobile benefits
As a leading provider of HR services, TriNet makes it easy to access all your benefits info in one place. The TriNet Mobile app gives Burton instant access to his medical card and his workflow approval status. The app also makes it easy for him to look up company-wide contacts and email or call them right from the contact links.
3. Pro traveler
Burton uses Apple's default Passbook app to store all of his boarding passes for each week's travel.
4. Digital Music
Burton's iTunes Music Library has over 400 CDs, ranging from Hendrix to Bach. Because of his diverse musical tastes, he prefers his own collection over streaming Internet radio.
5. Keeping an eye out
Burton uses the Dropcam app to see a live HD feed of the cameras in his Bay Area home.
6. Green machine
The Nissan LEAF app directs Burton to the nearest spot where he can charge up his all-electric ride.
See more
To see more smartphone personalities in our series, click here

---
"This article was originally posted by Prialto: The Virtual Support Service for Executives. Prialto Virtual Assistants are geared to actually pull your business forward and make delegating easy"