The average knowledge worker spends 28% of the work-week either writing, reading or responding to email. That adds up to 294 billion email messages being sent by users every day. Even in the world of internet numbers, that's huge.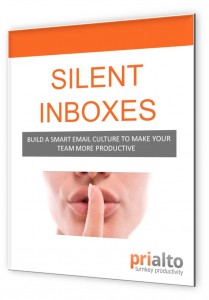 Yet, we'll bet that more than half of the emails in your inbox right now have nothing to do with your daily priorities. Why is that? Put simply, a lot of the problem is email etiquette. As a result, instead of focusing our inbox on our own priorities, we let incoming emails set our agendas for us.
Stop letting your teammates' bad email habits bully their way into your day. Any team of knowledge workers – whether they are remote or sharing a desk, 30 people or 3 – needs to create a set of rules and expectations around email best practices.
Download Prialto's ebook to learn how your team can build its own culture. It will guide you through:
Various strategies for cutting email distractions out of your inbox;

Sharing those strategies across your entire team;

Answering the unasked email culture questions amongst your team; and

Boosting team productivity by encouraging efficient email communications.
You'll also get a case study and bonus email culture picklist to get you started!