---
We love it when our members and their companies are recognized in the media for their brilliance, growth, and innovation.
In a recently aired TODAY show segment, Al Roker paid a visit to Elite SEM, a company that in his mind "dispels millennial misconceptions about work."
---
For their "Millennial Misconceptions" series, TODAY teamed up with website Greatist to find out what makes millennials tick. Together, they surveyed roughly 4,000 individual millennials to determine aspects of their work life
On a scale of 1 to 10, millennials give the importance of work culture an 8.5, which is why Al had to visit Elite SEM — a digital marketing company that's been rated the top workplace for millennials.
So what is Elite SEM?
Elite SEM is an award-winning, performance-driven digital marketing agency.
Founded on Search Engine Marketing (SEM) and paid as well as organic Search Engine Optimization (SEO), EliteSEM has evolved alongside client needs in the ever-changing online marketing industry, with further expertise spanning Conversion Rate Optimization (CRO), Performance Display Advertising, Paid Social, Shopping & Feed, and Mobile Strategy.
Their teams develop and execute on strategic plans for clients that reach the right audience to generate sales and/or qualified leads at a cost-effective rate.
What sets Elite SEM apart from the competition?
Elite SEM brings a unique business model to the market that ties account performance to account managers, and rewards teams for continuous performance and satisfied clients with a share of company profits.
All account teams have skin in the game — account managers are all stakeholders whose prosperity is dependent on the success of their clients, because Elite understands that it succeeds only when its clients succeed.
Elite treats each employee like a business owner — providing free lunch, unlimited vacation/sick days, full benefits, and a share of company profits.
Elite attracts and retains top talent — creating tenured teams with experience across multiple verticals and industries.
Clients of Elite feel confident — knowing they have dedicated, consistent teams working on their campaigns, with account managers who know their business inside and out.
Boasting unprecedented 97% employee and 94% client retention rates — commitment to people and performance has cemented Elite's position as one of the top digital marketing agencies in North America.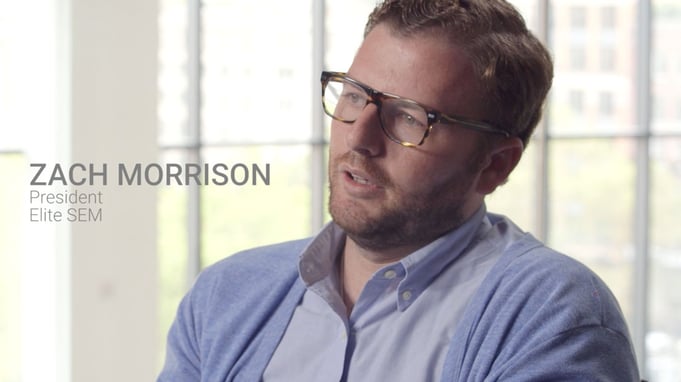 photo credit: Think With Google
Who is Zack Morrison?
Zach Morrison is Elite SEM's President. He brings over 10 years of experience in digital marketing to Elite, with core expertise spanning SEM, SEO, display and social advertising, shopping, and CRO.
As one of the early members of Elite SEM, Zach has played an integral role in the growth and evolution of the company. In addition to his work at Elite SEM, Zach provides thought leadership to many leading publications such as Mashable, American Express Open Forum, PPC Hero, and SEMPO.
Zach is also an adjunct instructor at NYU and a featured speaker at FIT (Fashion Institute of Technology), Grovo Expert Series, Search Engine Strategies Conferences (SES), eTail, and Online Marketing Institute. He also serves as a member of Google Remarketing & Display Council, Google Mobile Champion Team, and Kenshoo Agency Council.

In the TODAY show segment, Zach gratiously answers Al's questions about Elite's company culture and what sets it apart.
Al Roker: "All you hear about companies like this — Google and Facebook — there's the snacks and ping pong tables and nap pods. I don't see those. Where are the ping pong tables and nap pods?
Zach Morrison: "Those are important misconceptions. [For millennials], it's not about going to a fraternity house where they work. People want to come here for a purpose."
AR: "Are millenials changing how businesses work for everybody?"
ZM: "This is becoming the new norm. I think you're going to start seeing...some of these companies that are struggling, and a lot of it will go back to the people, because they're not setting up their organizations for their people to be successful. And that's the key."
Watch the today show's video
millennial Misconceptions: how they are changing the workplace
---
CONCLUSION
So while there are no ping pong tables or nap pods at Elite, the undeniable perks for its 160 employees definitely exist. They have flexible hours, remote working opportunities, unlimited vacation/sick days, free lunch, and culture interviews conducted by peers. It's not your typical 9-to-5 environment, and that's the point. More on this story here.
Hire a virtual assistant to support your business the way we support EliteSEM. Every dedicated, managed virtual administrative assistant we staff will pull your business forward and increase your productivity.
---