The secret is out – working with a virtual assistant (VA) is a quick, cost effective, and efficient way to free up some of your time. If you find yourself spending time on simple recurring tasks throughout the day, chances are a VA could handle these tasks, allowing you to focus on what really drives your business forward.
Depending on how you approach this new working relationship, working with a virtual assistant can either be a game-changer or a time-waster. Here are some common mistakes that professionals make when working with a VA for the first time and some tips on how to avoid them.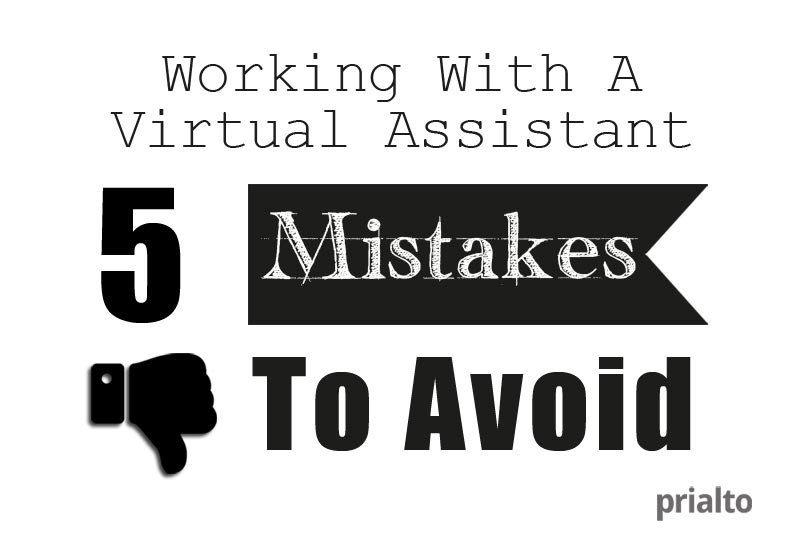 1) Don't assume your virtual assistant knows your preferences
Because you want things done your way, and your VA is not a mind reader, it's important to clearly communicate how and when you would like certain tasks to be completed.
Take for example these 3 common tasks
Booking travel:
Like your schedule, giving your VA all the necessary information concerning your travel ahead of time will save on the back and forth when your VA is making your travel arrangements. You're VA should have as much information as possible; be it preferred airports or a certain sized rental car or your mileage account number.
Scheduling and appointments:
Let your remote personal assistant know what times you are and are not available. Known vacations, times in the evening when it is and is not permissible for him or her to contact you and so on. Doing so will prevent your VA from constantly checking with you about every suitable time to schedule appointments and meetings.

Take a look at this article, having your virtual assistant schedule for you which has 7 tips for working with a VA who handles your calendar and scheduling.
Dealing with clients and customers:
If your VA interfaces with your customers or clients, establish ahead of time the correct protocol and procedures, so that the VA's constraints of communication and responsibility are clearly defined.

For example, you might authorize your VA to communicate to your client the particulars of a contract, but you reserve for yourself any communication around proposed changes to that contract.
2) Not knowing exactly what to delegate to your virtual assistant
Many successful entrepreneurs are the classic do it your self-types, DIY'ers. They want and love to do it all themselves. They are the master of a few trades, and try to be the jacks of all others.
However, even the most energetic entrepreneur recognizes that they must get some help. Unfortunately, when they finally hire someone, they're not sure what to delegate and what to keep for themselves.
When you decide to hire a VA, and need to determine what work to delegate, think about this:
What is it that you and only you can do for your business?
What can a smart, hard working person who knows nothing about your business do?
Of course you take care of what's unique and essential to your business, be it design or coding or product planning, but handling your everyday email or scheduling or perhaps data entry are good functions to delegate to your VA.
Related to this:
Don't keep your VA waiting or having to come to you for the day's work.
Establish ahead of time the list of things to be done, the frequency (daily, weekly, etc.), and the criteria for completion – this way your VA can get started on the day's work without having to interrupt you.
3) Not defining goals and expectations
In a perfect world your VA has your best interest in mind and you'd be able to delegate work to your VA, then go about your day working on your own projects.
It's not like that, especially when you are working with someone remotely. All tasks, large or small, require you to communicate parameters and constraints of the work to be done:
Start dates, finish dates, with an expectation of task duration
An understanding of what needs to considered for the work to be completed
Budget limits if booking travel or making purchases
And remember something that may be clear to you, that you assume, may not be to your VA. Encourage your VA to ask questions if something is not clear or your instructions seem incomplete.
4) Not checking in regularly and early on
If you are starting with a new VA or a new project, it's useful to establish a checkpoint early in the project to make sure everything is being done correctly.
For example, if you asked your VA to update several hundred records in your database, set a checkpoint after ten percent of the work is done to make sure everything is going well; review the work and make any adjustments as needed. You don't want your VA to complete a lengthy project, only to find it was all done incorrectly.
5) Not aligning your goals with your VA's goals
Although your virtual assistant is working for you, you should think about the nature of your interaction, your relationship if you will, with your VA. Taking a little time to learn more about him or her, understanding their strengths and weaknesses, can help you better manage and delegate to your VA.
Perhaps like yourself, your VA is interested in learning more, doing more and growing. Establish a good rapport with your VA, link your VA's success to your success, then you'll both end up in an optimal working relationship.