---
This article is part of our ongoing PA Note series. It reflects the thoughts, experiences, and motivations of Prialto's Productivity Assistants from the field. In this post, Anthony Gray of our Guatemala Service Center tells us about his recent Amplivacation experience.
Amplivacation = Amplified Vacation
Who would have thought that a semi-staycation in Guatemala would lead to profound breakthroughs in relation to fear, behavioral changes, and professionalism...?
A Trip to IRTRA Water Park in Retalhuleu, Guatemala
For Anthony Gray, a longtime virtual assistant in our Guatemala office, going to a water park with his wife, Evelyn, was all it took for him to find courage and regain a sense of professional focus.
Read on to hear about Anthony's trip, complete with gorgeous pictures of a breathtaking area of Guatemala.
---
"It really helped me to overcome my fear of high places and learn to better control my emotions. Taking on these challenges has really helped me find focus during difficult situations , especially when working with difficult members."

Anthony Gray, Virtual Assistant at Prialto
What Beautiful Accomodations!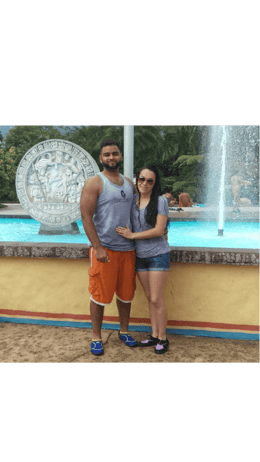 Anthony and his wife stayed at the San Martín Hostel, which is part of the gorgeous and modern IRTRA Hostels complex located in San Martín Zapotitlan, Retalhuleu just 180 kilometers (120 miles) from Guatemala City. The hostel's peaceful, remote grounds are known to transport guests back to "simpler" colonial times while giving them the comfort of the present.
The IRTRA Hostels currently have 669 rooms, making it the largest hotel in Guatemala, and one of the largest and most beautiful in Central America. The room where Anthony and his wife stayed was "really nice, with cozy beds and much needed A/C for those toasty Guatemalan nights.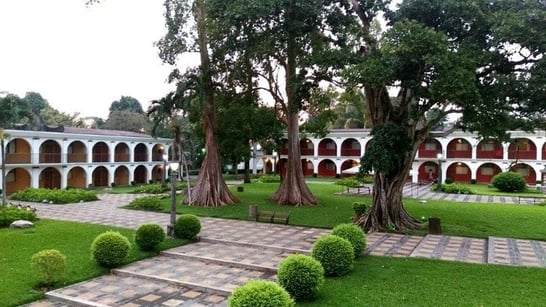 Oh...the food!
Anthony spent most of his afternoons enjoying the many pools on the premises, and eating ("a lot of eating") at the restaurants.
"The food was even better than I thought it would be," Anthony said. "The restaurant came with a buffet, so...well...I pigged out a bit during all three meals of the day, but it was so worth it. I even had a cheese burger at 8:30 pm at night, and didn't tell the misses!"
She wasn't too happy about that bit, apparently.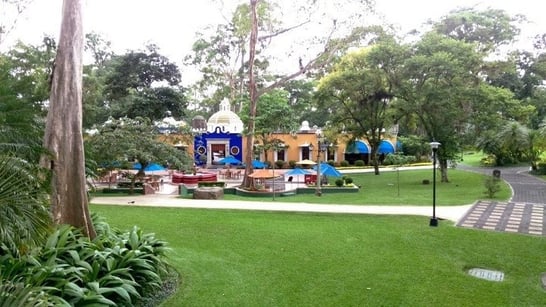 Go Jump in a...Pool!
Retalhuleu, Guatemala is very warm (a.k.a. scorching). The sun has no mercy for the weak, so sunblock was key while Anthony and his wife were at the many pools. The water provided a cool respite from the unrelenting heat, and helped them unwind and relax a lot.
The Xocomil Water Park was amazing, too! So many water slides. That's where Anthony dealt with his massive fear of heights, which the slides actually helped him get over.
"There were 13 different ones, and I went on all of them. I'm afraid of heights, and taking this trip really helped me to overcome that. Six of the slides were above 20 meters (66 feet) in the air, so I got one hell of a leg workout in addition to the flips and flops happening in my stomach and heart every time I got to the top.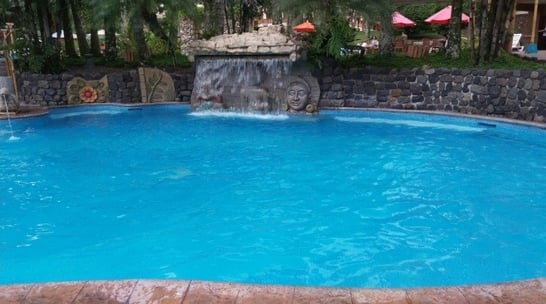 ---
How Did This Amplivacation Help Anthony Be His Best Professional Self?
"It helped my desire to travel a lot more, which is something I didn't have much interest in a few years ago," said Anthony. "It also gave me the chance to rest and reflect on my career path both in and outside of the office. Most importantly, this trip helped me to become a better team player, too. Thanks, Prialto, for giving me the chance to have an awesome vacation with my wife."
Cheers to the Success of Others!
We LOVE when our Productivity Assistants (e.g., Virtual Assistants) expand their horizons, especially when they give all of us a lesson on dreams and grit. Do you know how to pursue your dreams?
LEARN HOW TO INCREASE PRODUCTIVITY WITH A VIRTUAL ASSISTANT
If you'd like to learn more about hiring a virtual administrative assistant like Anthony to help you become a better version of yourself and elevate your work life balance, click on the button below.
---