---
To the business traveler, there are few things more commonly avoided than the layover. We'll spend any amount of company money to take the most direct flights, treating any unavoidable layover as a one way ticket to email checking purgatory.
But it doesn't have to be like this!
Airports across the country are adding amenities to attract fliers. For longer layovers, almost every major city has something interesting to check out within their terminals.
To kick off our Layover Guide Series, we're starting with the highest ranked large airport in America, which happens to be in our headquarter city of Portland, Oregon (yes, we're biased!).
If you're ever flying through PDX, check out our handy layover guide below...and judge for yourself!
---
Two Hour Layover or Less
Lucky for you, PDX has been rated the top airport in the country four years in a row by Travel + Leisure magazine, which means there's no need to do anything but stay put!
Most restaurants and shops are branches of Portland companies, so you can get an authentic Portland experience right in the airport.
Dining – PDX is subject to laws that prevent restaurants from charging more at the airport than they do at their off-airport locations, which means no more $10 Big Macs! Take advantage of the lower prices by sampling bites from Portland institutions such as Jewish-style deli Kenny & Zukes, Southern biscuits and fried chicken spot Country Cat, or scratch made brioche donuts from Blue Star—minus the line you'd find at their in-town locations
Drinking – Portland is known as the craft beer capital of America, so options for imbibing abound at PDX. Grab a pint or three at outposts of local breweries such as Laurelwood, Henry's, and Rogue Ales. Pro-tip: all three also serve great food. PDX also has the world's first airport distillery tasting room in House Spirits. If alcohol's not your thing or you need to stay sharp for a meeting at your destination, a coffee from world-renowned and Portland-original Stumptown is a must
Shopping – those same "street price" laws cover retailers, and (even better) there is no sales tax in Oregon. So no need to go through the pesky duty free process. Check out Portland tent-poles like Nike, Columbia, and Powell's Books. For more unique offerings, check out wool purveyors Pendelton or stylish apothecary Kiehl's. Gift shops should normally be avoided, but the Made in Oregon store is worth a browse due to the high quality of goods being made locally in Portland's artisan scene. It should be noted that Made in Oregon's Terminal C space has one of the best selections of wine in the city, and can sell alcohol at 5 am—2 hours before everyone else in the city can sell alcohol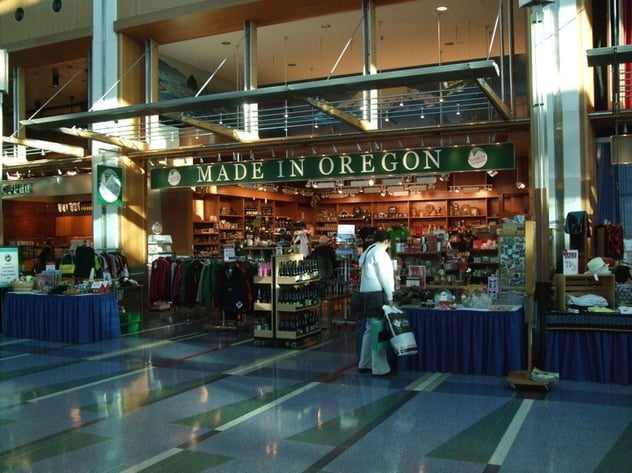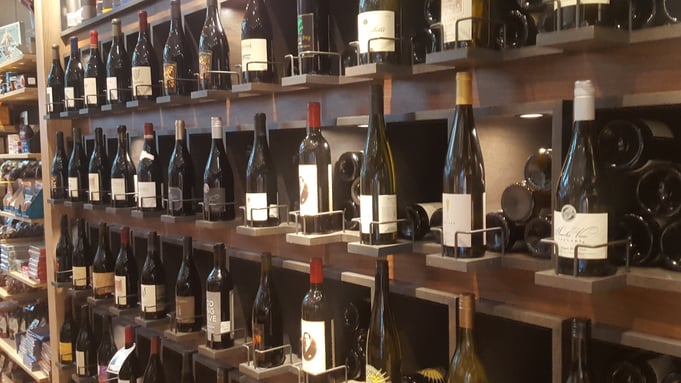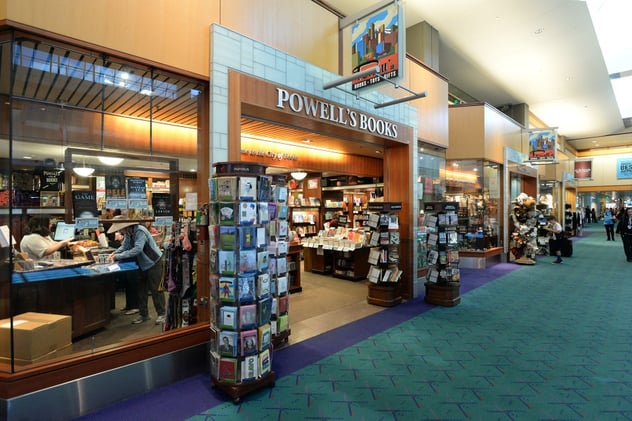 Activities – Unlike most airports, PDX supplies free wifi. And unlike all airports, PDX's carpet has its own Wikipedia page. Connect to wifi, put on your favorite Spotify playlist, and search for the remaining hidden square of original carpet. If that sounds too stressful, pamper yourself at Dragontree Spa with a variety of relaxing treatments. Perhaps the coolest activity of all is catching a show at the Hollywood Theater. This new (and free!) PDX location of an iconic Portland theater is a "microcinema" that continuously shows short films by Oregon filmmakers
---
CONCLUSION
According to the J.D. Power 2016 North America Airport Satisfaction Study released in December 2016, our PDX International Airport was ranked the top large North American airport.
Portlanders are proud of their airport, and rightfully so. They're even more proud of their city.
In Part 2 of the PDX International Airport layover guide, we'll dive into what to see and do (and what to avoid) in the city on an extended layover.
Stay tuned!
---