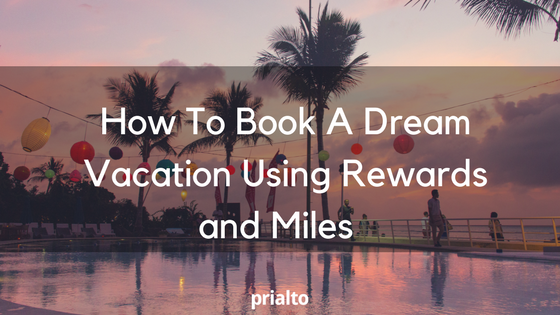 It's the middle of January, and thanks to the cold and dreary Portland, Oregon weather, we're dreaming about warmer locales here at Prialto HQ.
But wait a second - isn't a little early to start thinking about how you're going to spend your vacation time this year?
The research actually says no.
Harvard Business Review suggests that 94% of vacations have a good ROI in terms of energy and outlook upon returning to work. This is only true, however, if vacations are planned properly, the travelers feel safe, and make good social connections. Their research also shows that people who use their vacation days are promoted more frequently.
Essentially, the data supports planning that vacation you've always wanted to take, and the earlier you can start planning it, the better.
However, the process of planning that dream vacation can be prohibitive in its own way, from the time it takes to ensure your trip goes as smoothly as possible to ensuring you stay within your established budget.
Using airline miles and points earned through business travel or the use of travel-associated credit cards is one way to cut costs significantly. You've probably heard stories about people who engineer unbelievable trips like a $28000 trip to Thailand or even my personal acquaintance who was able to take a luxury vacation at a resort in Bali for free using points and miles earned while travelling for business.
The only problem is this - travel rewards programs can be tricky to navigate. A recent study by U.S. News & World Report shows that at least 20% of airline mileage cardholders carry a balance and pay more in interest than their rewards are worth.

Whether you're organizing the trip yourself or passing it off to your assistant, these tips will help you get the best value.
1. Begin With the End In Mind
If you already have a destination in mind, you can find hotels and airlines in that location that accept your credit cards travel rewards, as well as identify how much the estimated cost in points/miles will be. Picking a destination and working towards the amount you need allows you to target earning in the rewards programs that will have the most benefit to you.
Hot Tip: Are your travel goals are less about the destination and more about keeping things cost-effective? Identifying a clear objective for your award redemption is key. AwardAce is a clever startup with extensive information on how to choose your goals to maximize the impact of your rewards.
2. Be Choosy

Not all rewards programs are created equally. Travel & Leisure reports that the six largest U.S. based airlines have all made changes to their frequent traveler programs in the last few years. Certain rewards cards have an annual fee or an interest rate that make the rewards pale in comparison.
On the other hand, some cards have significant sign-up bonuses that can amount to the entire cost of a domestic ticket. Several programs allow you to choose between miles and points for hotels or rental cars, allowing you to tailor your rewards to your goal.
The Points Guy gives a monthly cents-per-mile valuation that can help you decide what programs are best for you. Be sure to monitor the progress of your rewards earnings regularly to make sure you're on track.
3. Double-Dip
If you travel for business often, placing all your reimbursable expenses on the travel card associated with your awards program of choice can get you miles for the purchase and for the travel itself.
Similarly, if you have other business expenses, such as employee or client gifts, these can be purchased with your rewards cards or as part of a participating rewards program. Online retailers often offer bonuses on purchases when you go through their shopping portals.
Hot Tip: Another great way to double dip is to find a card that also has a dining program: you'll be earning points or miles for client or family dinners! Stay up to date on these types of offers by going to your program's website.
With these tips and plenty of planning, you can be on your way even sooner than you expected. Just make sure you send us a postcard.