---
GrowthMinded Milwaukee Episode 4
Eric Taussig, Founder & CEO of Prialto
Episode 4 of GrowthMinded Milwaukee features Portland-based Founder and CEO of Prialto, Eric Taussig.
The podcast conversation focuses on entrepreneurial inspiration, advice, and insights Eric has learned along the way.
If you want to grow -- and grow at scale -- listen this 15 minute podcast conversation.
---
Prialto is a leader in the efficiency and productivity space.
We leverage remote teams of skilled and qualified virtual executive assistants so that you can focus on what's important to your business.
What turned Eric's attention to such a service need?
Originally, Eric was searching for a business idea. He'd always wanted to start something from the ground up. So he combined his love of bringing people together with his passion for the challenges and opportunities inherent in working across cultures and cross borders.
Prialto was born in Silicon Valley in 2008. In 2015, Eric moved Prialto's HQ to the Silicon Forest of Portland, Oregon.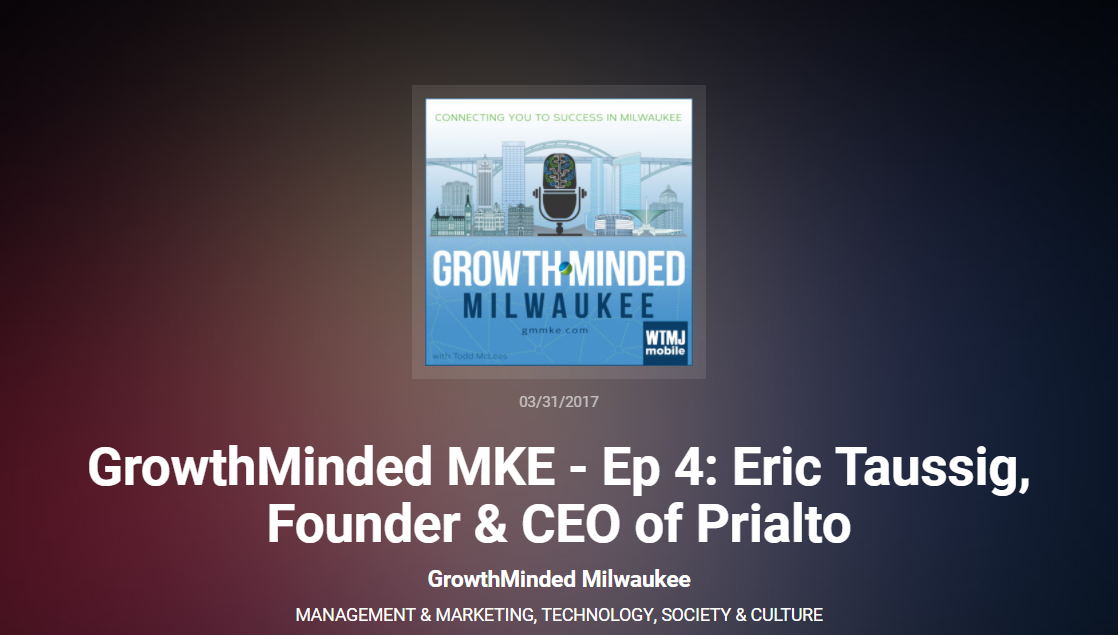 then keep reading...
Eric built a company around helping people like himself.
He isn't naturally productive, so he built a company full of process junkies. Eric very quickly found that he was much more efficient when surrounded by super organized colleagues.
---
CONCLUSION
"In general, people think of a virtual assistant as a substitute good. Meaning it's something that you buy when you can't afford the real thing."

Eric Taussig, Founder and CEO of Prialto
We believe that over time, a virtual executive assistant will be a superior offering to having someone in your office on a number of levels.
We've worked really hard to figure out what we can do better than that individual who you might hire in-house. We really take time building out our processes so we're no longer a substitute good but a primary good - and something desireable even if you can afford someone in your office.
Letting go is extremely hard for founders. Eric understands that. Prialto is all about helping people delegate important tasks that can be done by someone else. We walk you through the process every step of the way, and manage the teams who support you.
should you hire a virtual assistant? find out now.
---