Gnip Founder and CTO Jud Valeski is a data guy. So it's unsurprising that his iPhone home screen includes several different ways for him to track and gather data, as well as keep it safe. From core finance and travel apps to curated audio playlists, his smartphone personality reflects his own best practices for his every day work.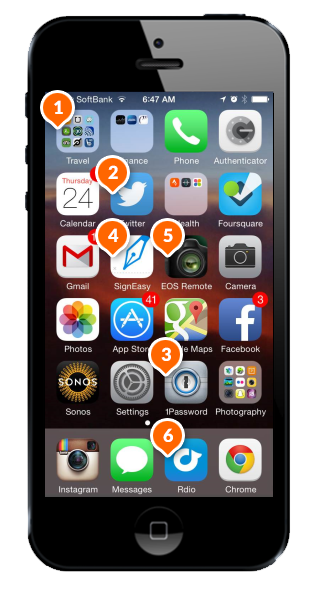 1. Road Warrior
Jud is on the road a lot for business, so keeps his travel apps on the front page. His favorites include Waze, Zipcar, and TripAdvisor.
2. Tweeting Data
Jud founded Gnip, a Twitter data company that was acquired by Twitter in early 2014. That's why Twitter gets pole position on his home screen. Keeping up with the platform and its interface is key for Jud's work.
3. Doubling Down
In addition to Google's Authenticator app, Jud uses 1Password to create and remember unique passwords for every site. That creates two extra layers of security when he access accounts from his iPhone, especially relevant because of the email and financial data he uses on his home screen.
4. The dotted line
Business Development is a core part of Jud's role at Gnip, so being able to easily fill out and sign documents from his smartphone is helpful. That's where SignEasy comes in.
5. Supercharged visuals
Jud's expanded the camera capacity of his iPhone by linking his device to his Canon EOS DSLR camera. This allows him to take high res, raw images with a sharp camera instead of relying on the in-built iPhone camera every time.
6. Social jukebox
Jud uses Rdio as his internet radio because its discovery (most important), sharing, playlist, and collaboration user experiences are far superior to other services. As far he's concerned, music is a social experience, not one for isolation. That's why Rdio gets prime real estate (even over his iPhone's phone function!) in his dock.
---
"This article was originally posted by Prialto: The Virtual Support Service for Executives. Prialto Virtual Assistants are geared to actually pull your business forward and make delegating easy"