Your Sales Reps are using systems, just not yours
Prialto has a lot of experience working with busy executives, well over 500,000 hours worth. Although each client is unique, we've discovered some very interesting trends. One of the most notable is that the best sales reps are the ones least likely to rely on their company's CRM. This is a surprising result and bears further analysis.
Before Prialto brings on a new account, we conduct a Needs Analysis, which looks at each executive's practices, pain points, and preferences. We have surveyed hundreds of sales professionals on the tools they use to manage sales contacts. The results (see chart below) are surprising. Just over 1/2 of the sales reps saw CRM as their primary method for managing contacts: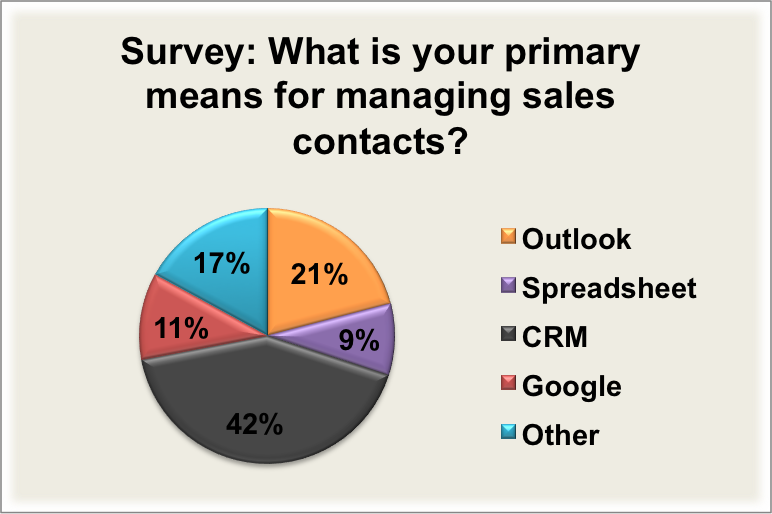 What does this mean for your business?
The implications for your business may be significant. Consider what it means to your business if:
You are not getting all data
Your team isn't leveraging the systems you have built for them
You don't have complete visibility into your pipeline
Why is this happening?
There are a several reasons we regularly see that lead top sales executives to rely on other systems:
Inflexible CRM systems: Often the best sales reps choose to use another system because it works better for their processes
Multiple systems: Surprisingly most companies allow sales reps to maintain contacts in both Outlook and the CRM
Unclear Value: Sales reps often feel like data clerks rather than the sales stars they are wired to be
What can we do?
Don't give up hope. CRM adoption is one of the toughest challenges to solve in sales. However, we have consistently found that it can be addressed. Here are a few basic strategies that can get you started:
Optimize CRM for your reps: CRMs can be customized for individual reps. With a big sales force, we don't recommend you customize for each rep but identify your top early adopters and let them innovate within your systems. Also, leverage best practices from firms such as Prialto to add strategic fields.
Standardize on one system: Don't support multiple systems for contact management. For example, if you are running Salesforce and Outlook, make Salesforce the contact system of record and integrate all other systems into it.
Offload the admin burden: Sales executives aren't typically wired to enter data. Data quality is important for sales management but it doesn't always have to be entered by the sales person themselves.
Show them the money: CRM systems with quality data are extremely powerful but often sales executives resist entering activities / updating opportunities because they don't see the value for themselves. Once you have the data in your CRM, make sure it serves both management and the sales reps. Work with your executives to provide simple/clean tools to help them better prioritizing their efforts by leveraging the data.
The goal: reward performance, not data
Studies show that 70% of a sales reps time is focused on administration. Prialto works closely with companies to help ease the administrative burden on sales reps. By giving your team a true infrastructure and investing them in your systems, you can reduce sales rep turnover, focus on revenue growth, and have confidence the data is in the CRM. We hope that the tips above have inspired you to try a different approach with your team.