His Android is what keeps Shane Snow, Chief Creative Officer and Co-Founder at Contently, in touch with his ideas. A minimalist at heart, Shane uses his smartphone every day. But he keeps the interface clean and focused on what he needs to prioritize in his daily routine.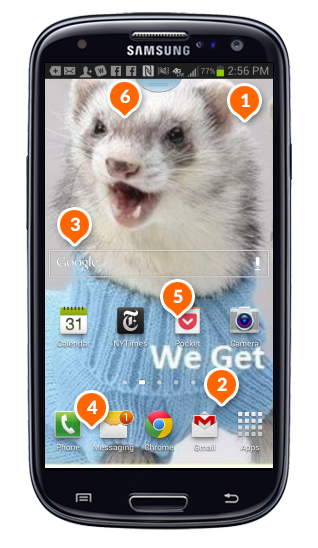 1. Yes, that's a ferrett
Who doesn't like a silly photo to brighten up their day? A ferrett in a turtleneck? – yes, please! Shane keeps things fun and lively with photos like this one on his homescreen.
2. Clean mobile
Shane's motto is minimalism. He keeps his most-used 8 apps on the home screen, and buries the rest in the back. That makes it easier to fight distractions, and, of course, to see the ferret's face!
3. Android convert
Every few months, Shane resolves to get rid of his phone entirely, but then keeps getting won over by the Galaxy Note. He loves its screen, which is great for the news and Kindle apps that he uses every day.
4. Responsive CCO
Shane's voicemails, text messages and email inbox are almost all down to zero. He's efficient and responsive in terms of communications with both his internal and external teams.
5. Keeping up with content
As CCO of Contently, Shane needs to stay up to date – both with current events, and with how they get reported. Pocket is Shane's favorite news app (the only one to make it to the front page of his smartphone!) to keep track of several news sources in a single location.
6. Social media choice
Based on his home screen, it looks like Shane spends more time on Facebook and LinkedIn than on any other form of social media.
See more
To see other executive's smartphone personalities in our series, click here.
---
"This article was originally posted by Prialto: The Virtual Support Service for Executives. Prialto Virtual Assistants are geared to actually pull your business forward and make delegating easy"