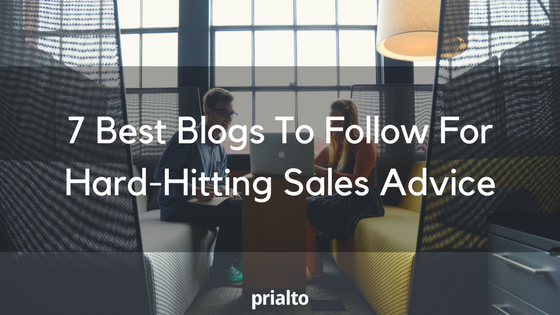 Great sales professionals are masters of time management.
As such, it's easy to brush off activities like spending time reading sales blogs, because it seems like they shouldn't be high on the to-do list. Something you already know, though, (because you're here) is the best sales professionals spend time researching their competitors, honing their skills, and learning. And since you can fill transit time and more with reading, a great way to expand your skillset is by reading top sales blogs.
One thing you don't need to do, however, is spend time sorting through all the blogs out there. We took some time and dug through dozens of options to find you the 7 the best blogs for hard-hitting sales advice.
Sales Hacker is well-known as one of the very best sales blogs out there. They focus on the future of sales by providing detailed, relevant content about prospecting, qualifying, calling, and so much more.
The best part about Sales Hacker is that it's not just blog posts. They also publish online courses, e-books, webinars, and videos. If there's a topic you want to learn about, Sales Hacker has probably covered it.
Where to start: Sales Hacker's Top 17 Articles of 2017
HubSpot features multiple tools to make sales easier, including CRM software. In their blog, they have curated a collection of advice from their team as well as some of the top sales professionals in the world. With great advice on prospecting, negotiating and more, HubSpot is a great destination for learning. (Full disclosure, we use Hubspot to manage our content and website, and we love it.)
Where to start: 30 Better Alternatives to the "Just Checking In" E-mail
John Barrows shares his real-life industry experience in his Filling the Funnel Blog. Barrows is an active salesperson and constant learner. He believes in sharing the education he has received throughout his impressive career with salespeople at every level.
Where to start: 11 Simple Ways You Can Get Better at Sales Every Day
Want to learn to write an amazing cold e-mail that your potential customers will open – and even respond to? Head directly to the Salesfolk blog for loads of great advice on writing effective e-mails and copy. With plenty of examples, both good and bad (check out the Hall of Shame tag), you'll be writing better e-mails in no time.
(Pst - we've also written about this here.)
Where to start: 6 Cold Email Crimes That Will Land Your Message and Reputation in the Trash
In her own words on her website: "Jill Konrath's career is defined by her relentless search for fresh strategies that actually work in today's sales world."
Konrath is a thought leader in B2B sales, and writes personable, smart content focused on making your clients' lives better and your sales processes more efficient.
Where to start: Value Proposition Examples – Words That Get Meetings
Anthony Iannarino wrote the book on sales. The author of "The Only Sales Guide You'll Ever Need," Iannarino delivers the same thoughtful insight, words of wisdom and applicable advice daily in his blog. The blog, as well as the rest of Iannarino's website, is a treasure trove of resources and materials for the savvy sales professional.
Where to start: The 52 Percent Subject Matter Expert
Heinz Marketing Blog focuses both on Marketing and B2B sales. President and Founder of Heinz Marketing, Matt Heinz, provides daily insight in articles that are extremely readable with strategies that are actionable. Each week, Heinz includes his "How I Work" post, to get you the skinny on what he's actually spending his time doing at the highest level.
Heinz also does a bi-weekly radio show, called Sales Pipeline Radio, which you can access through the blog.
Where to start:
Four Recommendations for Old-School Sales Environments