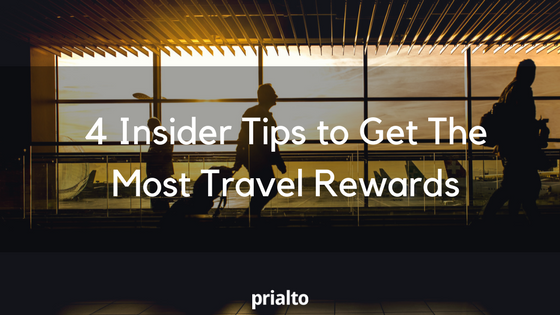 You've heard the stories of people taking fabulous trips for next to nothing using travel rewards. Collecting rewards might seem like more effort than it's worth, but travel blogger Sam Huang took a $60,000 trip around the world for just $300 using Alaska Airlines miles.
Many frequent fliers aren't capitalizing on all the ways you can collect rewards and are leaving big travel savings on the table. Be a rewards-savvy traveler with these 4 simple tips to maximize your earning potential:
1. Pick your program – and work towards status
Many of the benefits you earn by being a frequent traveler will come through achieving status with an airline, rental car company or brand of hotels. Hitting an elite status can come with perks like free room upgrades, free checked bags, free or upgraded breakfasts, happy hours – and sometimes even double or triple the miles or points. Sticking with one brand or brands that are partners (such as Star Alliance, Sky Team and One World) helps you achieve status faster.
If other factors prevent you from using the same brands or their affiliates each time and you've already earned status with one airline alliance or hotel chain, you can often ask to have your status matched. Companies know that status keeps their customers loyal, and if they can shift some of your travel spend to their company, they'll probably say yes!
2. Link your profiles
Some of the rewards programs you're already a member of, or other services you're already using have partnerships or offer additional rewards for using their services. For example, you can earn 1 mile per dollar with Delta Skymiles for every dollar you spend on Lyft, and 2 miles per dollar for every ride originating or culminating at the airport. If you're charging your Lyft ride to a Skymiles credit card, you're earning an additional mile per dollar on top of that!
Many airlines, hotel chains or rental car companies have partnerships where you can convert points to miles or vice versa. Depending on your programs, you can pass points or miles to partner programs just by linking the accounts and specifying your preferences for earning.
3. Earn for things you do every day
Eating, paying your energy bill, shopping for clothes, shoes & luggage – all of these things can earn you points and miles. Through shopping portals and affiliate plans, you can multiple miles for things you already do. Pay close attention to the rules of each program, you'll often have to sign up for dining programs separately or shop through online portals. Some earning opportunities, such as earning miles on multiple airlines by switching to Energy Plus, are only available in certain states or are dependent upon switching service suppliers, so make sure you read the fine print first.
Ordering flowers for a loved one or client? FTD and other online florists offer up to 30 miles per dollar for purchasing through their portal. Make a good impression and pad your travel rewards accounts!
4. Seek out sign-up bonuses, promotions or contests
The fastest way to earn your first free airline ticket or hotel stay is almost always going to be a credit card sign up bonus. Cards like the Chase Sapphire Preferred card give a huge bonus that you can decide to use on air travel or a hotel stay. Most airline cards give you enough for a free domestic flight for signing up and spending a certain amount within your first few months as a cardholder.
You can also be on the lookout for promotions and contests that will help you earn faster as you stay or fly. Hilton Honors routinely offers promotions for multiple stays within a timeframe, and is flexible about letting you earn miles per dollar spent and keeping the promotional points for hotel stays with their MyWay earnings style.
---
Handling travel plans is time consuming. Outsource to a dedicated assistant today.