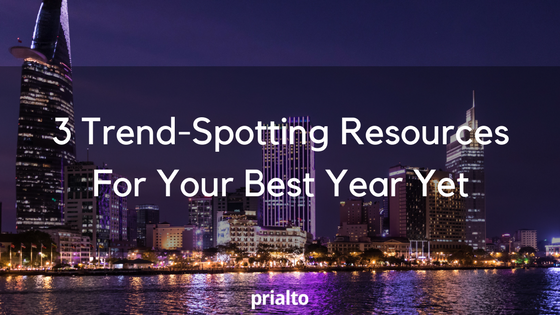 We're at the beginning of week two of the new year, and it's already been busy here at Prialto HQ. With an office move (check out our new digs) and annual planning, we've hit the ground running.
To make sure you do, too, we've searched the web for the best it has to offer to get your year started on the right foot.
This week's Pulse features the fastest growing apps of 2017, social media trends to watch in 2018, and the best advice for entrepreneurs to start their year with.
(Want more of this? Subscribe to the Prialto blog for updates.)
Zapier: The Fastest Growing Apps of 2017
Take a good hard look at this list, because the winners aren't what who you'd expect them to be.
For apps to watch soar in 2018, take look at our analysis of several up and coming apps here. Just want to make more sales next year? Check out these apps.
Forbes: 2018's Biggest Trends For Social Media Trends for Business
The one you need to keep the closest eye on? Automation and AI's far-reaching effects on your marketing and sales departments.
First Round Review: The 30 Best Pieces of Advice for Entrepreneurs in 2017
Our favorite tip? Uplevel your sales process with this template.
Formerly VP of Sales for Wildfire and an Ops Manager for Google[x], Derek Draper has managed teams of hundreds of sales reps and seen the transformative power of an effective sales process firsthand. In particular, he put a template into practice that breaks each stage into questions you should ask, activities that must be completed, what needs to be given to customers, and what needs to be gotten from them.