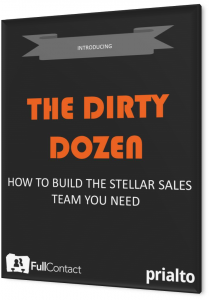 It's going to happen. No matter how hard you try to stop it, and no matter how hard you plead and beg: You are going to have to build a sales team.
But we are a bunch of growth hackers! Our product is going to sell itself! We will never stoop to the sordid world of sales!
Yes you will. It's just a question of when.
Let Us Help You Learn How
There is no business without sales. If you're talking to prospects to find out what their needs are, that is sales. If you're answering a prospect's questions about your product, that is sales. Sooner or later, every company reaches a point where they need to employ sales executives and build a sales team that can assist (cajole, push, pull) prospects through the buying process in order to ensure continued revenue growth at the necessary pace. Startups must do this. Entrepreneurs building successful businesses must do this. Sales executives that want to meet quotas must...
You get the point.
FullContact's Ben Deda has laid out 12 things to consider ("The Dirty Dozen") as you build a sales team to beat all teams.
Take Action! Download the Free eBook to Discover:
Why every company (including startups!) needs a sales team

How to build a sales team that can scale

Whether to hire a maverick or a superstar sales executive

What kind of support your sales executives will need to grow
---
"This article was originally posted by Prialto: The Virtual Support Service for Executives. Prialto Virtual Assistants are geared to actually pull your business forward and make delegating easy"