Looking for fresh ideas for improving the way you work? Social media can be a great source of inspiration, if you know how to cut through the noise. For innovative sales process ideas, take a cue from a few of these prolific Tweeters.
1. Guy Kawasaki: Apple's former chief evangelist and today's hottest Silicon Valley consultant, his tweets aren't always about sales. But when they are (and even sometimes when they aren't), they'll give you a daily dose of perspective on your pitch.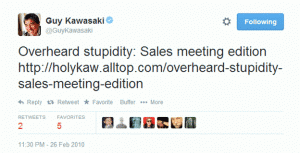 2. Andy Paul: Sales expert and author of Zero-Time Selling, Andy tweets insightful strategies, tactics and processes along with a few witty remarks about his sales philosophy.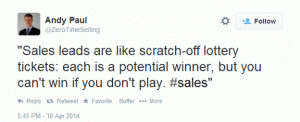 3. Joanne Black: A leading authority on referral selling, Joanne tweets key tips and tricks that lead to sales success with links back to her No More Cold Calling blog.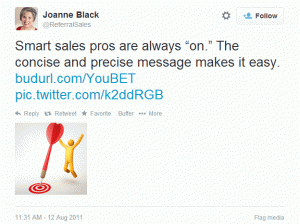 4. Jill Konrath: Speaker and author of AGILE SELLING, Jill tweets about how to get a leg up on the competition, offering thoughtful insights about the sales process via her blog.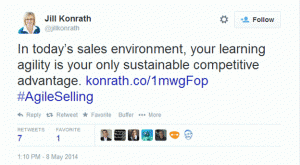 5. Aaron Ross: Author of Predictable Revenue & CEOFlow, Aaron offers high-level insights for both sales reps and CEOs that help to increase a company's bottom line.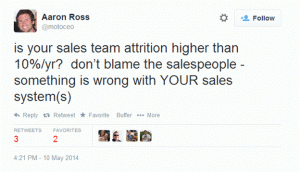 6. Matt Sharrers: A sales & marketing thought leader, Matt helps executives exceed strategic objectives & increase shareholder value through sales effectiveness through both Twitter and the Sales Benchmark Index blog.
7. Jeb Blount: Founder of Sales Gravy and author of People Buy You, People Follow You, People Love You and Power Principles, Jeb uses Twitter to share his expertise on human behavior in the workplace, while also offering solid sales tips via the Sales Gravy community.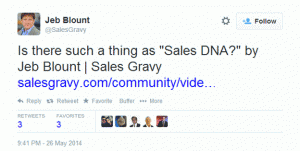 8. Marianne Vanella: CEO at The Vanella Group, Marianne is a telesales and lead generation expert, offering advice to sales reps in the enterprise technology space via her twitter feed.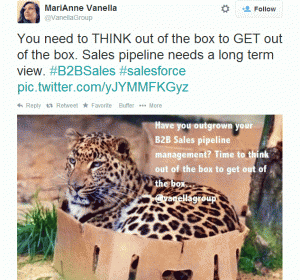 9. Tibor Shanto: Award-winning author and speaker, Tibor tweets about B2B sales and execution tips with links back to his Sell Better blog.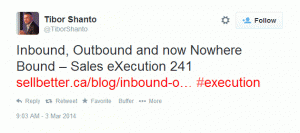 10. Mark Hunter: Author of High-Profit Selling: Win the Sale Without Compromising on Price, Mark offers sales motivation tips and proven sales training techniques to help you increase sales via both Twitter and his blog, The Sales Hunter.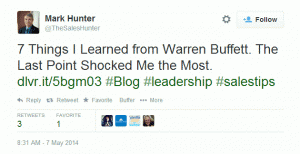 *Bonus
11. Prialto: We thought we'd include ourselves as #11 in our list of 10, so that no one could accuse us of skimping on providing valuable content. Where do we stand apart? Much of our advice can be noted and then, forgotten. We don't expect you to implement many of the tactics we suggest. We expect to implement on your behalf. That's what we mean by "Turnkey" sales support. No management required!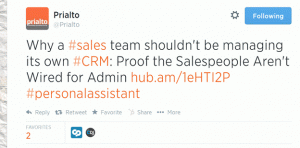 ---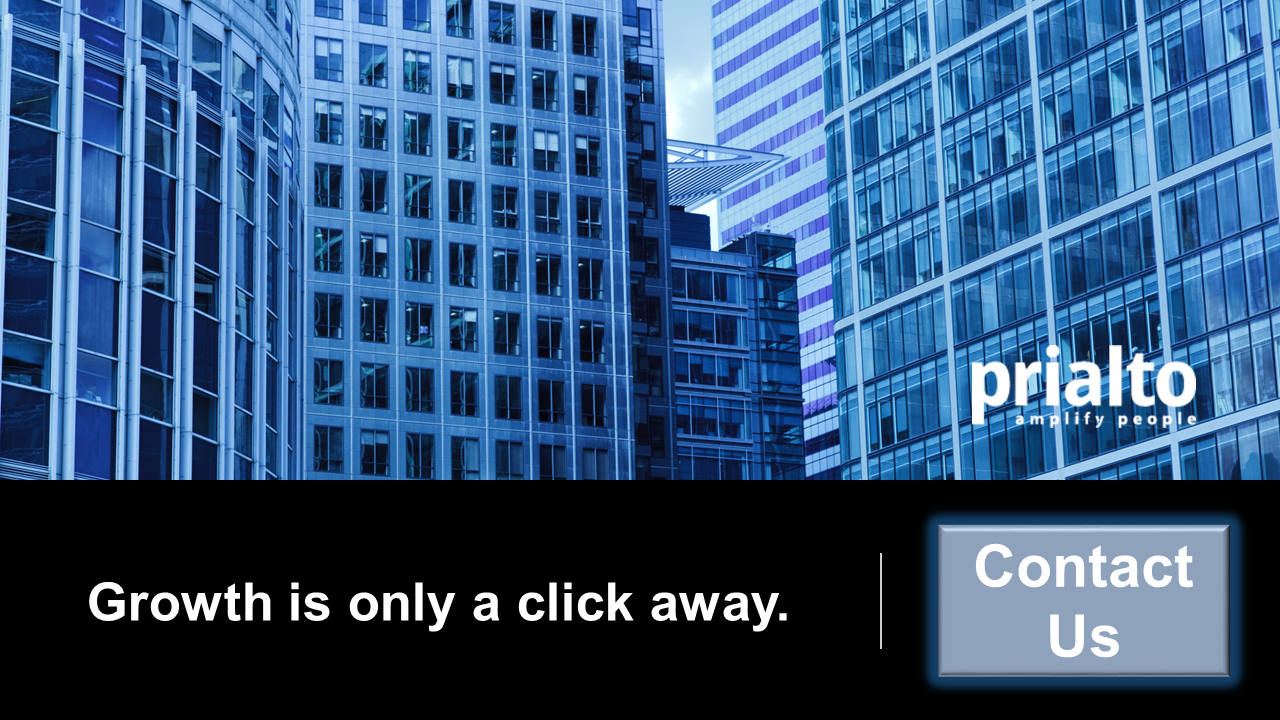 "This article was originally posted by Prialto: The Virtual Support Service for Executives. Prialto Virtual Assistants are geared to actually pull your business forward and make delegating easy"